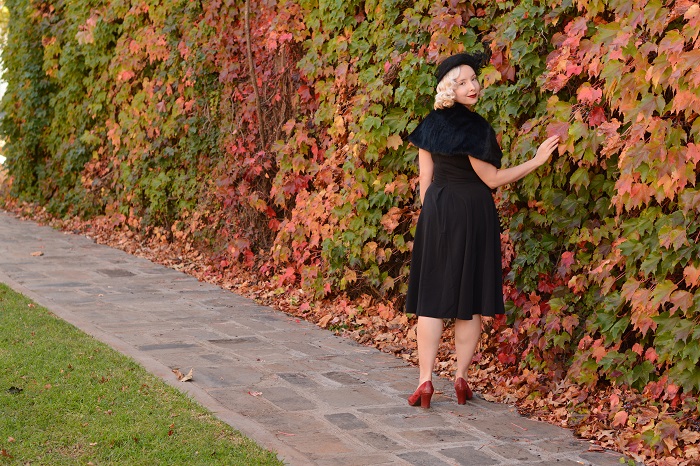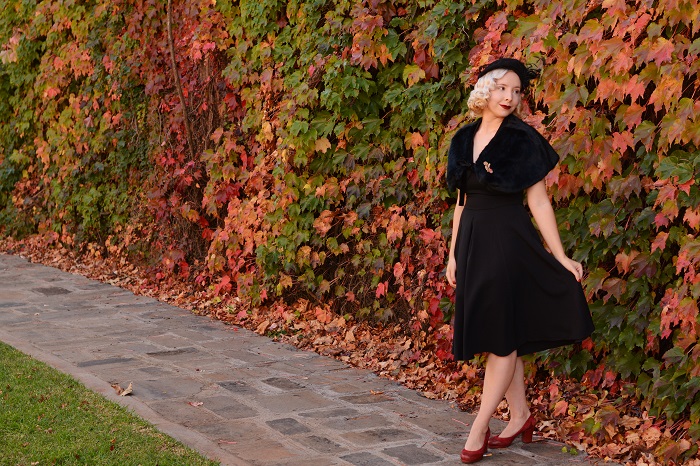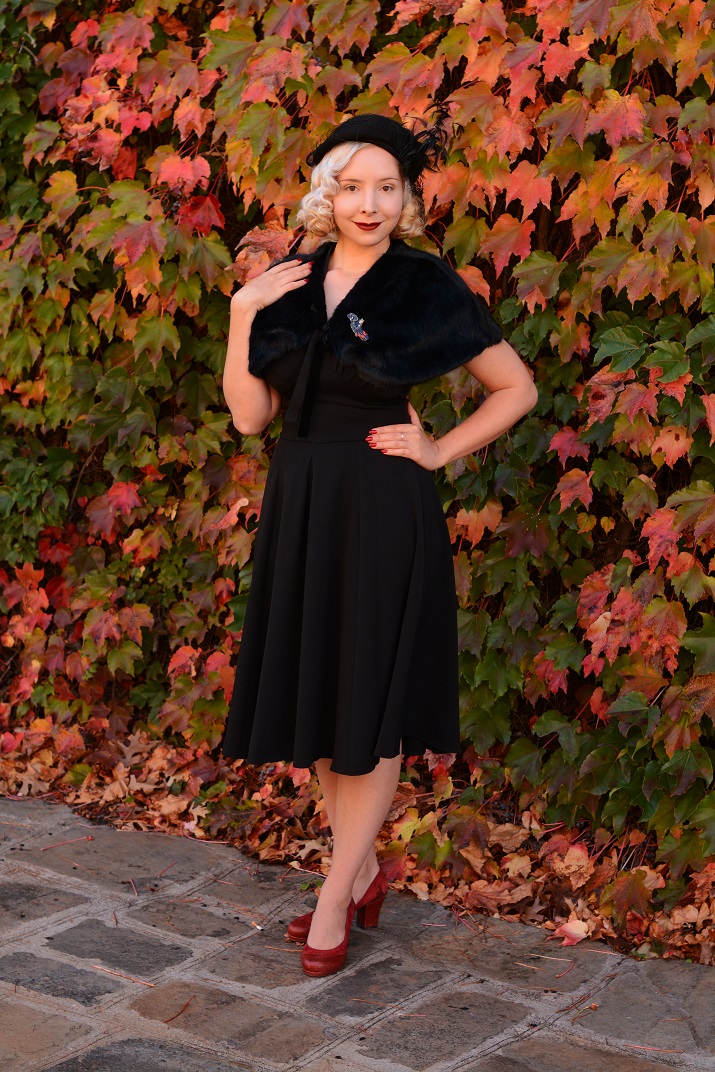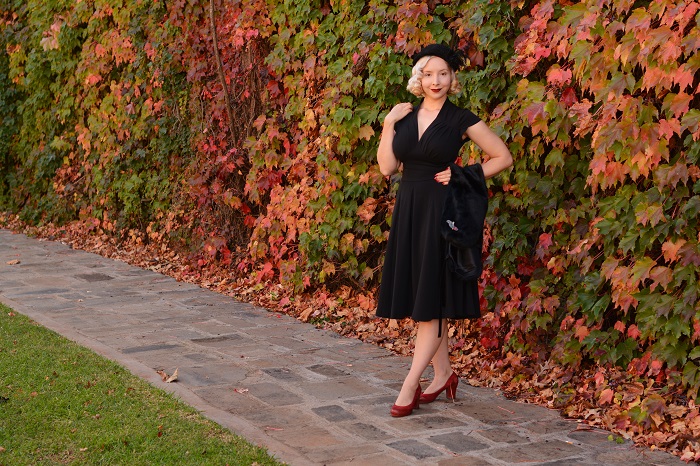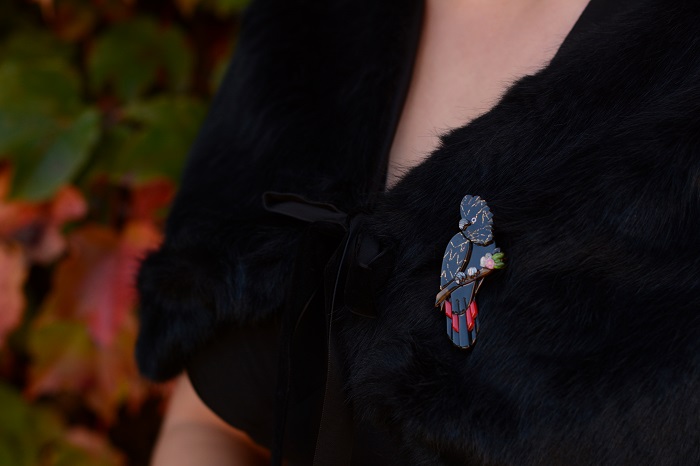 Black is a colour that often gets overlooked, but I for one cannot steer clear of it. I love the dramatic effect that wearing an all black outfit has, it is such a striking colour to wear. A good black dress gives one a pantherine quality, especially if worn with furs and a veiled hat – the archetype of the deadly dame. I love a dramatic outfit just as much as a simple one, and the Claudette Lou dress by Miss Candyfloss is the perfect little black dress to style up or down. Part of what makes black dresses so fun is that they are like a blank canvas when it comes to styling – there are so many directions one can go in.
With it finally being autumn I have been enjoying wearing darker colours and being able to incorporate faux fur into my outfits for that ultimate touch of vintage glamour. The other appeal of autumn is of course the wonderful backgrounds that the season provides – such as this brilliant wall covered in grape vines complete with little tiny grapes.
As you know, I am not much of a brooch wearer, but there were some really wonderful pieces in the recent Australian themed Erstwilder release. One of them was Rohan the black cockatoo and just like a classic black dress, I found that his colouring would make him a great addition to my wardrobe as there were so many outfits that he suited. Funnily enough I ended up styling this outfit around his colours and even my hat has black feathers!
In previous posts I have worn some of the iconic jumpsuits that Miss Candyfloss create and I was very excited to try the Claudette dress which is the signature Miss Candyfloss dress. I am a huge fan of Miss Candyfloss jumpsuits due to the way they are made of soft, warm, extremely comfortable fabric, and the Claudette dress is in every way the same. My favourite feature of the Claudette dress are the pleats on the flared skirt that never lose their shape and remain perfect even after a several hour car trip – as was the case the day these photos were taken!
I decided to style this outfit as a 1940s appropriate evening wear look and later on this week I will be bringing it out again for a night on the town with the girls. But as it is, I already have several ideas in mind for how I plan on styling this dress again and if you follow my trip to Russia for which I be leaving next month you will see what I mean, for the Claudette dress has so much potential to only be worn once.
I am wearing the Claudette dress in a size S and I found it to be absolutely true to size, with the fabric being easy to wear due to an amount of stretch. If you find yourself falling for this classic cut but pastels are more your thing, the Claudette dress also comes in a stunning range of pastel shades, as well as vibrant shades such as red, green and blue!
Wearing:
Claudette Lou dress courtesy of Miss Candyfloss
vintage 1940s hat
Forever New cape
Rohan the Black Cockatoo brooch by Erstwilder
Miss L Fire heels