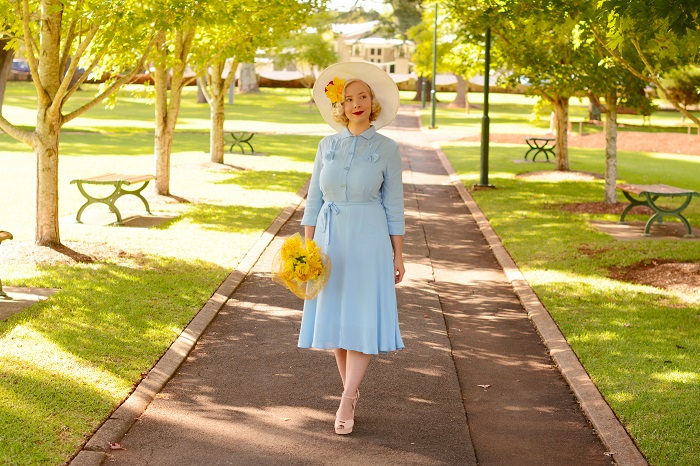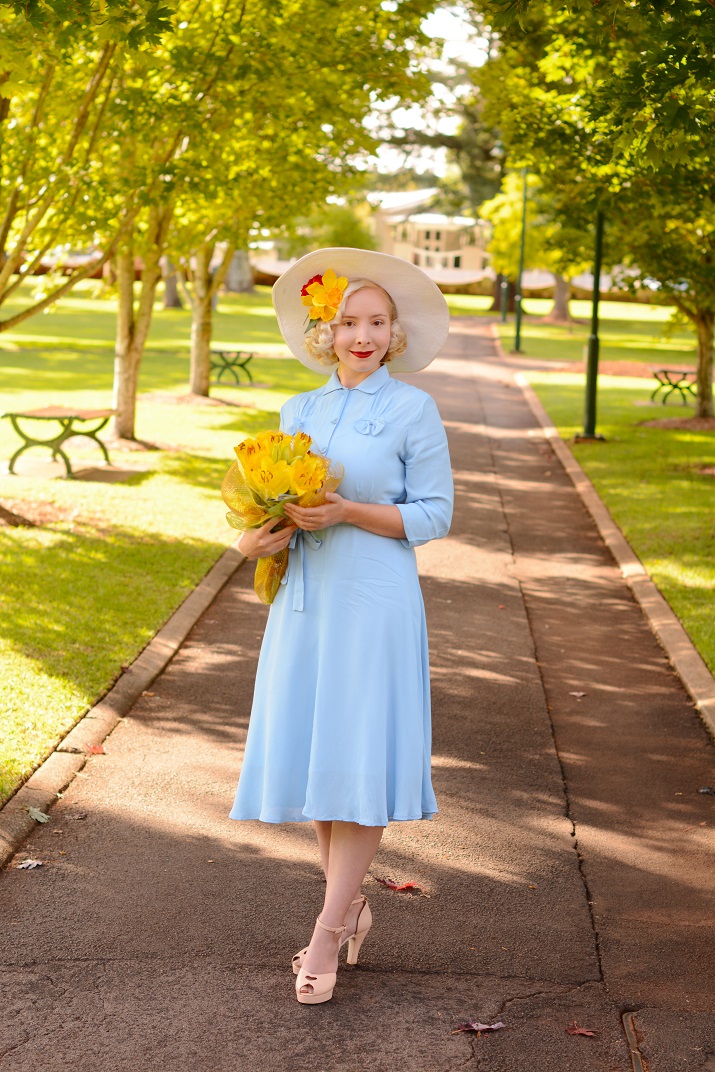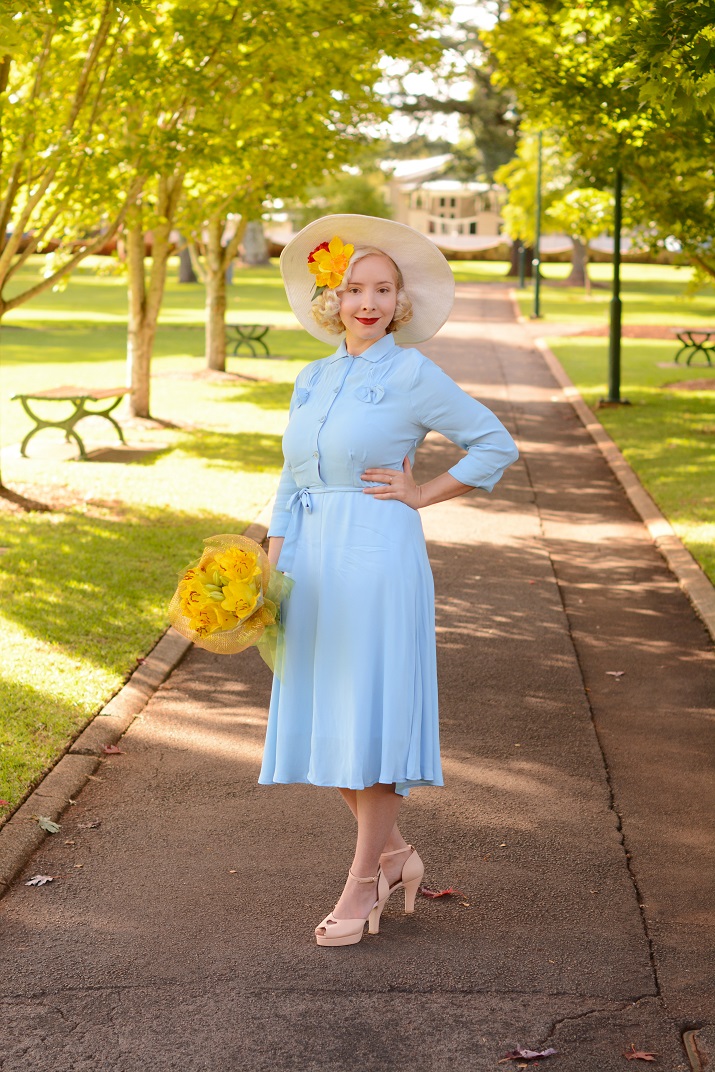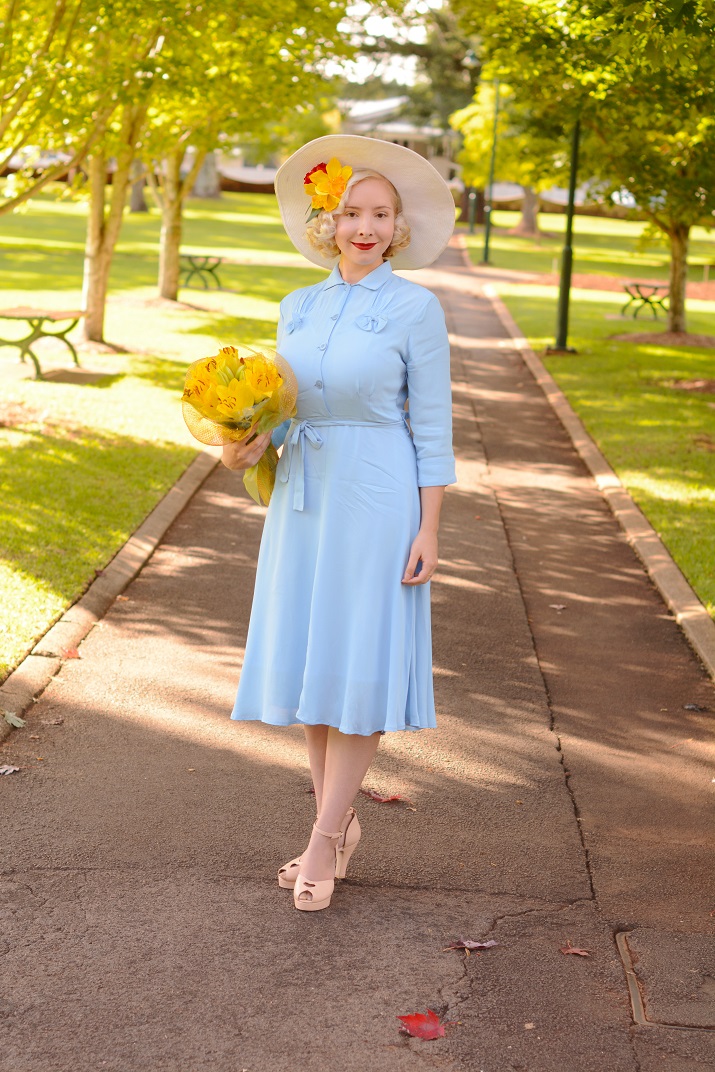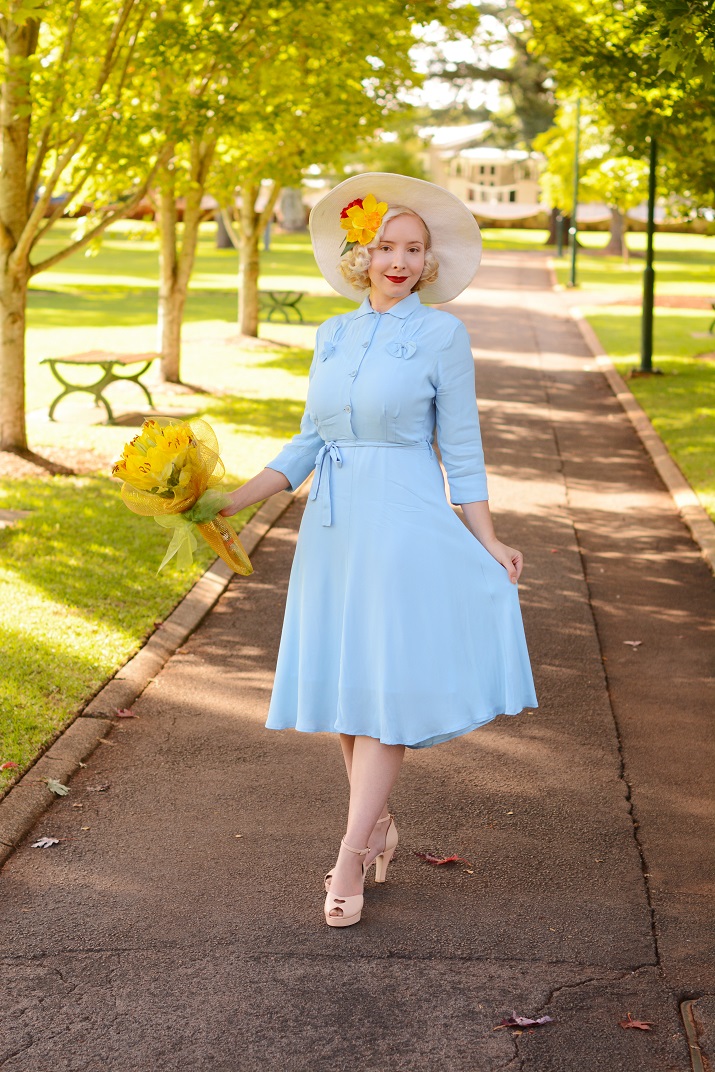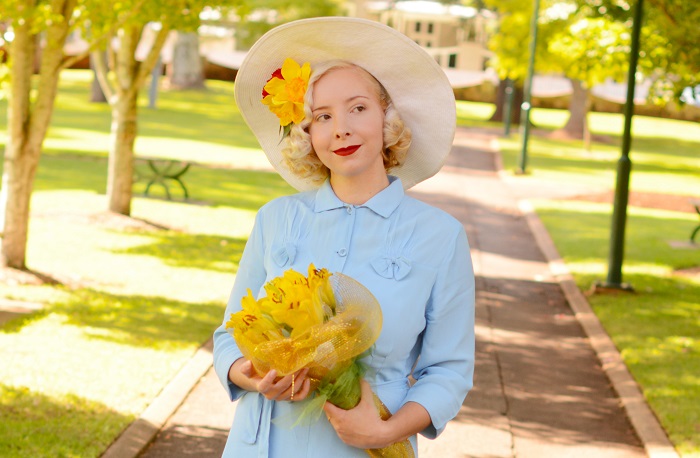 I love Easter and all of the iconography that goes with it – baby animals, flowers, the pastels – not to mention the hot cross buns and chocolate eggs which I am currently devouring as I write this. Of course the red leaves on the ground are a give away that it's autumn and not spring in this part of the world but I don't mind at all. I was very pleased to finally be able to wear a dress with sleeves again!
Originally it did occur to me to make my own Easter bonnet – however I decided not to sabotage a perfectly good hat with a failed attempt at crafting and instead went for a simple hat and hair flowers for my Easter look. As you know I love my Daisy Jean hair flowers, they were the first brand of hair flowers that ever caught my eye and I have been a fan ever since. I love the freshly plucked look that all Daisy Jean hair flowers have!
This very Easter perfect dress is the newly released Polly dress by The Seamstress of Bloomsbury who recently brought out some really gorgeous 1940s designs for SS17. It also comes in pastel polka dots! The Polly dress has such an iconic look that when I first saw it I was raking my brain trying to work out where I had seen it before. Then it hit me – it's very reminiscent of this dress Amy Adams wears as Delysia in Miss Pettigrew Lives For a Day. I would love to eventually track down a matching hat and recreate her outfit! Have you seen this film? I highly recommend it for the costumes alone!
I also think that the Polly dress is a lot like something a war bride might have worn when white lace dresses temporarily went out of fashion and women instead chose to wear their best dress instead. Looking at this vintage photo you can see how the lovely lady in the photo chose a very similar dress – even the same colour – and jazzed it up with a beautiful corsage for the occasion. I love the practicality of it and I can definitely see how the Polly dress would be perfect for a variety of both formal and informal occasions!
I am wearing the Polly dress in a size 12 and in these photos I also have a slip underneath as there was an autumnal chill in the air the morning these photos were taken. On a hot balmy summer day however there would be no need for a slip and the beautiful crepe de chine the Polly dress is made from is lovely to wear all year round. For those with broad shoulders, or who are in between sizes, I would not hesitate going a size up for the most comfortable fit. Due to the waist tie this dress very comfortably accommodates all figures so sizing up to suit your bust or waist will not be an issue!
Wearing:
Polly dress – courtesy of The Seamstress of Bloomsbury
Miss L Fire heels
Daisy Jean Floral Designs – hair flowers