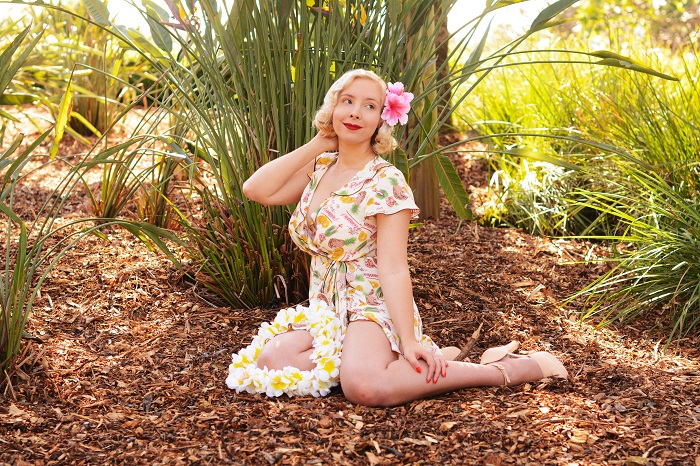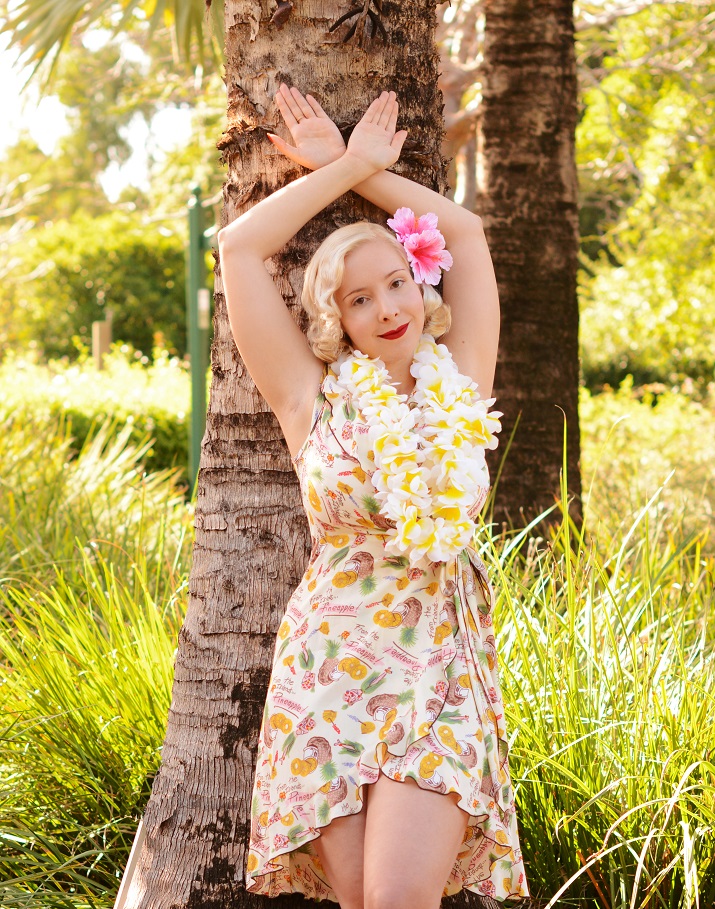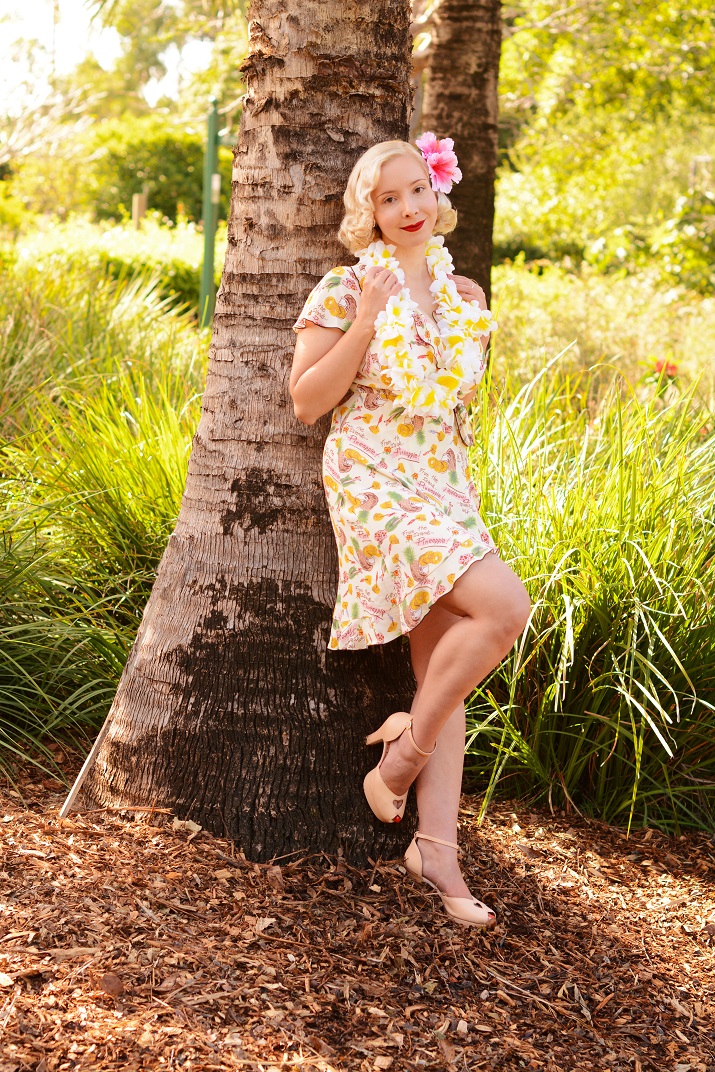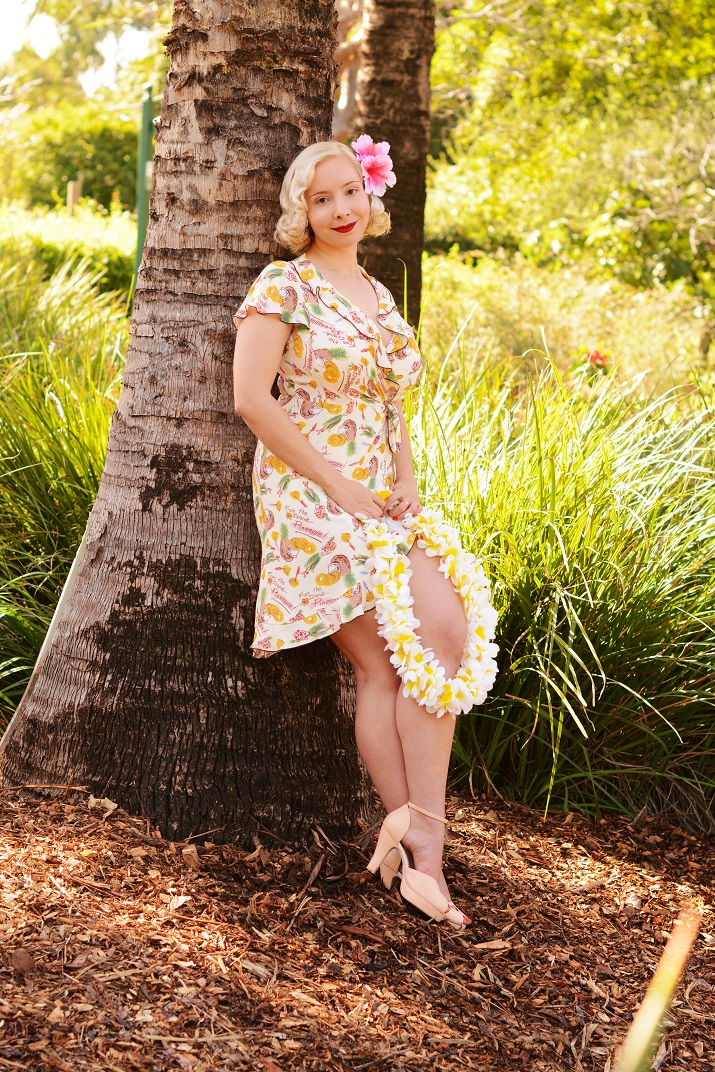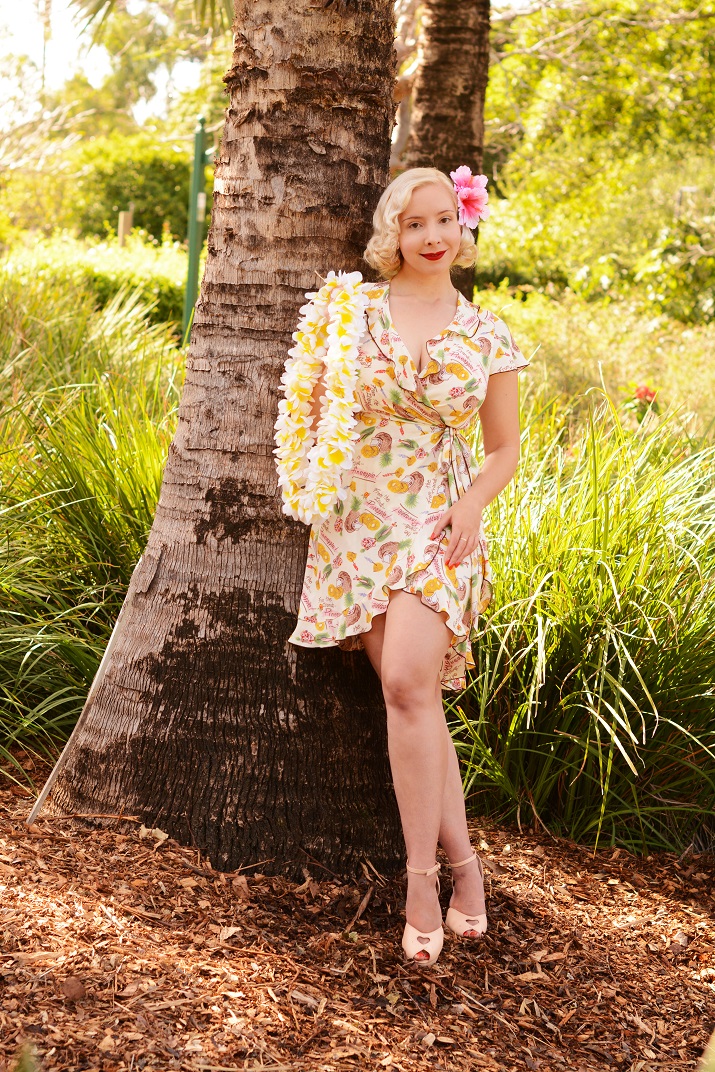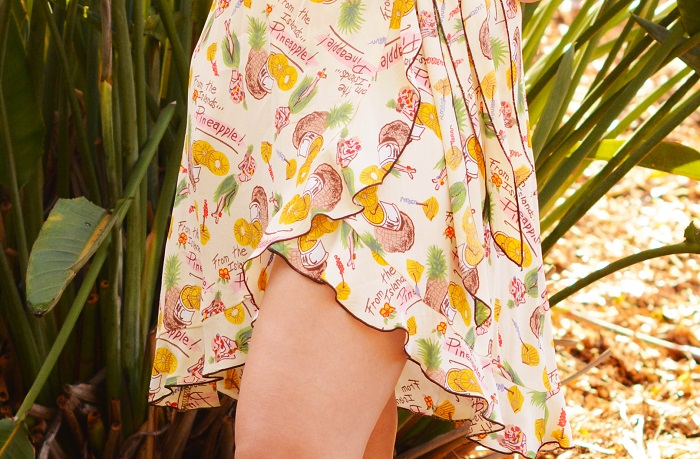 I'm sure some of you are wondering how it is that I can go from wearing faux fur one week and now to a little rayon dress? Well, that's just the way autumn in beautiful sunny Queensland is; a few chilly days but lots of hot ones too. This week has felt like summer all over again and there's no complaints here! On the contrary, it meant I could take this fantastic tiki novelty print for a spin and dress like a tourist visiting 1940s Hawaii.
These days they don't quite make novelty prints like they used to, but one brand that has brought back the charming novelty prints that the 40s did so well is Loco Lindo. Novelty prints played a starring role in 40s fashion for the instant cheer they added to outfits in times of austerity and it's easy to see how – especially if the print features beautiful hula girls and pineapples!
Loco Lindo are a California based company who specialise in reproducing vintage designs from the 1920s to the 1950s. All of their gorgeous pieces are created in California using French rayon crepe, featuring elegant florals and fun quirky novelty prints. Much as the designs of Loco Lindo are inspired by the past, their focus has been to create high quality vintage reproductions for every day wear.
I am wearing the aptly named Pineapple Princess dress which is a fun flirty wrap style that is part of Loco Lindo's very extensive 1940s range. This is the ultimate summer dress – perfect to wear to the tiki bar or to the beach if you're lucky enough to get a tropical getaway! The design features a tie on the inside to keep the dress in place and is secured by a second tie on the outside. I can see how this style would go really well worn over a swimsuit too as it is so easy to put on and take off – I know that it will be a perfect addition to my holiday wardrobe!
In honour of Memorial Day in the US, Loco Lindo currently have 25% off all regular priced items until the 19th, and this of course includes the Pineapple Princess in a variety of colour ways- along with a huge range of gorgeous 20s, 30s, 40s & 50s designs!
Wearing:
Pineapple Princess dress – courtesy of Loco Lindo
Daisy Jean Floral Designs hair flowers
Miss L Fire 'Lovestruck' heels